<
>
IMMUNITY [protease inhibitors]
Regular price
$149.49 USD
Sale price
$99.00 USD
Unit price
per
Sale
Sold out
A specially formulated blend of 100% naturally sourced, non-GMO ingredients. This all-natural 3CL Protease Inhibitor combo contains:
Chinese Skullcap 

(

Scutellaria baicalensis)


Standardized extract with at least: 15% Apigenin, 20% Baicalein, 50% Baicalin,1% Wogonin
Purple Gromwell Root (Lithospermum Erythrorhizon)


Standardized 5:1 extract with at least 5% Shikonin 
Lecithin sourced from Sunflower seeds


That's it -- mygotostack contains absolutely no fillers or preservatives.

Our formula is partially based on the Classical Chinese Medicine formula Shuang-Huang-Lian. The Chinese have used this formula containing Chinese skullcap, honeysuckle, and forsythia for acute respiratory tract infections since the 1960s. Chinese skullcap contains baicalin and baicalein, two flavonoids that have been shown in lab studies to exhibit significant antiviral activity. Our other key ingredient is Purple gromwell root which contains shikonin. We add lecithin from sunflower seeds to help increase absorption.
Chinese Skullcap is a flowering herb from the mint family that contains baicalin and baicalein. Studies have shown Skullcap may have antioxidant, anti-apoptotic, anti-inflammatory, and anti-excitotoxicity effects. Baicalin and Baicalein may also act as RNA polymerase (RdRp) inhibitors. Apigenin is another flavonoid found in Skullcap. Skullcap also contains Apigenin and Wogonin, flavonoids which also may have many anti-inflammatory effects.
Lecithin is a substance made up of fatty acids and is found naturally in body tissue. Lecithin derived from plant and animal products is commonly used as an emulsifier and emollient. (we only source our lecithin from sunflower seeds) 
Purple Gromwell Root comes from a plant native to Asia that has been used to make dyes and traditional medicines for centuries. The  Chinese discovered Gromwell's possible antiviral properties.
Dr. Haider recommends Adults take 1 cap twice daily for chronic maintenance and 3 caps 4 times daily for 5 days for acute support. For children under 18, consult your doctor. 

*Please consult with your doctor before taking any new medication or supplements.
** Expiration dates are estimates, and this has not been tested, but efficacy can be extended if stored in an air-tight food storage container and kept refrigerated. Freezing should be avoided to prevent the development of humidity/ice crystals. The federal government has tested solid antibiotics and found them to remain 90% effective up to 20 years from the production date. Still, this product is a combination of powders in a capsule, so efficacy data does not apply.
***When taking the recommended daily dosage, *no side effects were reported.
Note: When stored in a cool, dry place away from direct exposure to light, mygotostack products will last up to 2 years from the packaging date.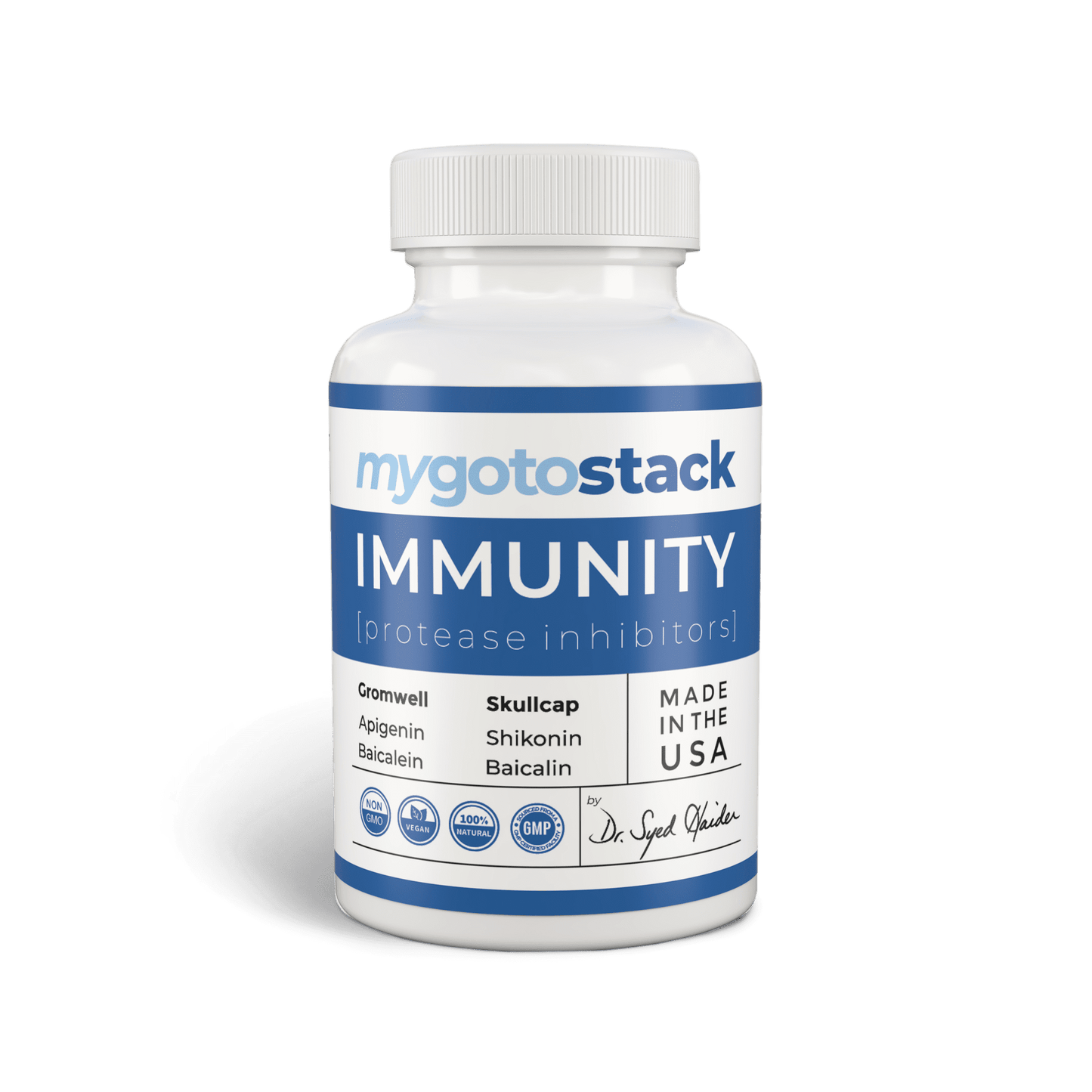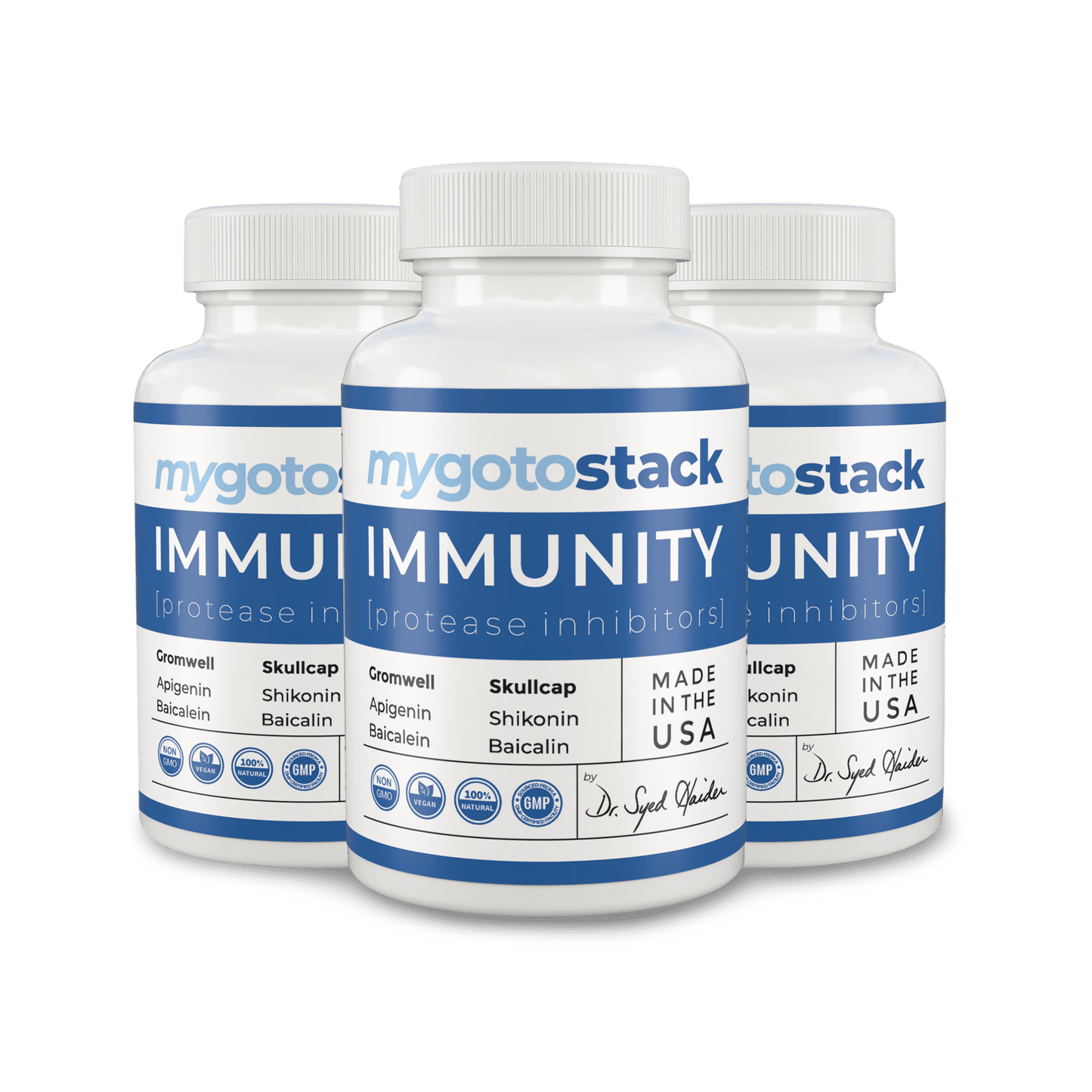 Discover our other products
Choosing a selection results in a full page refresh.